PROVIDING WATER, SANITATION AND HYGIENE SERVICES SINCE 1992
We are a Nepal based non-governmental organization established with a vision of improving the quality of life of all Nepali people through safe water, sanitation and hygiene (WASH) services. Since establishment in 1992, we have stood firmly on our commitment of developing and strengthening WASH services in both rural and municipal areas of the country. And we won't stop until everyone in the country, irrespective of gender, class, ethnicity or belief, is able to access their right to WASH.
LEARN MORE
While our primary area of engagement has remained delivering integrated WASH services in underserved communities, emphasis has also been placed towards supporting people's livelihood, building stakeholder's capacity, and influencing sectorial policies through research and advocacy.
Working Approach
Gender Equality and Social Inclusion (GESI)
Integration of water, sanitation, and hygiene
NEWAH is committed to full transparency and good practice standards in its work including financial transparency.
Working Approach
Transparency
NEWAH is committed to full transparency and good practice standards in its work including financial transparency.
Accountability
NEWAH takes ownership for its actions and adheres to the highest possible standards of accountability.
Poverty Sensitive
NEWAH positively discriminates those living in poverty and enables them to improve their quality of life through increased access to WASH services and various income-generating activities.
Gender Equality and Social Inclusion (GESI)
NEWAH ensures to make GESI a key priority across all its policy and implementation work. The approach aims to release women and the excluded groups from existing social, cultural and institutional barriers so that they can realize their potentials and enjoy the benefits of development.
Community participation
NEWAH emphasizes the active participation of local communities and WASH institutions in the planning, construction, management, and operation and maintenance of water supply and sanitation systems to ensure ownership, effective use and sustainability of the systems.
Integration of water, sanitation, and hygiene
To bring in maximum use benefits, NEWAH ensures that the sanitation and hygiene promotion interventions are integrated into the water supply projects.
Sustainability
NEWAH emphasizes making WASH interventions sustainable by seeking community participation at every stage of the project cycle, building their capacity to take ownership of their development and providing them opportunities for socio-economic empowerment.
OUR IMPACT
*facts and figures based on 2019 data.
Where We Work
NEWAH has a national presence, having served 51 (out of 77) districts of the country (as of 2019)
News and stories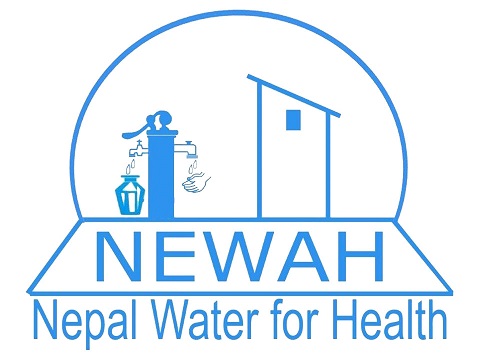 "Climate change is real and Nepal is highly vulnerable to its impacts:" Resham Jung Singh, Director, Nepal Water for Health
Nepal is one of the richest countries in fresh water resources but 3.5 million Nepalis still do not have access to basic water services.Resham Jung Singh is pursuing a PhD degree in Water Resource Management...
Read more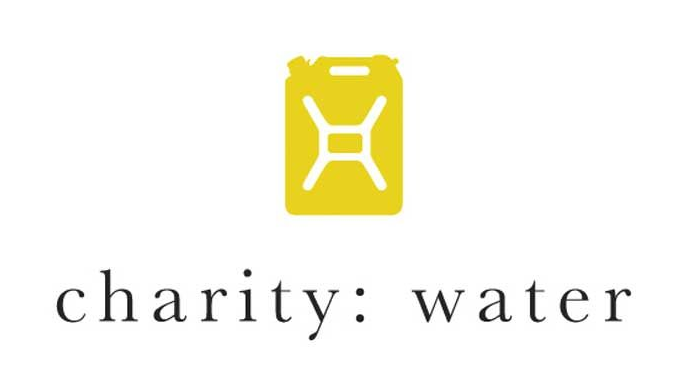 CHARITY: WATER LAUNCHES EXCITING NEW CAMPAIGN!
One of our donors, charity: water, has launched an exciting new campaign. charity: water started five years ago with a simple idea: they would share their story with the world, ask others to join them, and...
Read more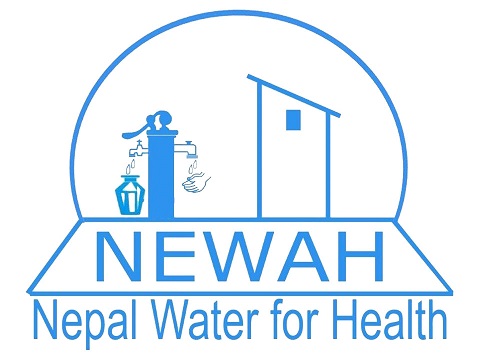 THREE OUT OF SIX TARGETED VDC ODFS ACHIEVED IN NAWALPARASI
Three out of the six targeted Village Development Committee (VDC) Open Defecation Free (ODF) declarations have been achieved in Nawalparasi district by the Suaahara program managed by NEWAH. The latest declaration took place in Naram...
Read more news and stories
HOW YOUR MONEY IS USED
12%
Management and general administration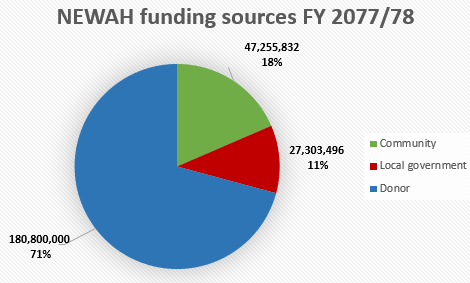 *facts and figures based on 2021 data
We believe that working through collaboration with diverse partners is fundamental to achieving change at a greater scale and with greater sustainability. In the past 28 years, we have collaborated with a wide range of partners to provide access to integrated WASH services for underserved population. We continue to seek meaningful partnerships to enhance our efforts and create synergy to achieve the common goal of healthy, prosperous and dignified lives of people.