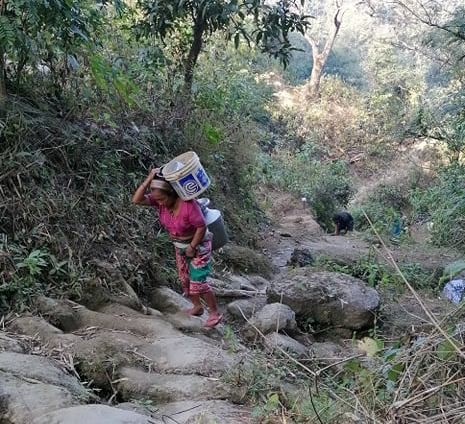 Last night, Sunmaya Waiba, 57, was busy till 11:00. From dusk till night, she remains occupied with cooking and serving food, cleaning the kitchen, washing dishes, preparing bed for the children, and attending to the guests. Exhausted from the day's work, she falls asleep as soon she gets to bed.
Today, she woke up at 4:00 in the morning. After cleaning the house, she went to fetch water from a well nearby. However, she was unable to collect water because her neighbors were there early and exhausted all water from the well. She sat by the well quietly, waiting for water to refill. After a long wait, a vessel of water accumulated in the well. Then she returned home with water. When she reached home, it was dawn already. Despite being tired, did not sit back to rest for a while. Sunmaya immediately began to prepare forage for the livestock and cook food for her family. This has not been her routine for the past few days, but the last couple of decades or so. And Sunmaya's story is only an illustration of the daily routine of the female members of 68 households dwelling in the Thulokauwa Community located in Hariharpur Gadhi Rural Municipality ward number 6.
Yet, Sunmaya remains optimistic that her desire for piped water supply near her dwelling will become a reality one day. With nine family members to take care of, including her husband, three sons, three daughters-in-law, and two grandchildren, she has endured many years of unbearable pain and anxiety due to lack of adequate and accessible drinking water. "It takes at least 40 minutes to fetch a vessel of water if all things are favorable, and at least five vessels of water is needed daily to meet our daily needs. Hence, I spend the majority of my daily time fetching water. Consequently, I am unable to devote enough time to other important household chores and community activities. I don't even have a stable mealtime. The water problem bugs me everywhere I go", Sunmaya adds "I remain physically and mentally stressed to an extent that my body has begun to display signs of rapid aging."
But time is about to change for Sunmaya and all the residents of the Thulokauwa community. Nepal Water for Health (NEWAH), with funding support from charity: water USA, is implementing a drinking water supply project with solar-lift technology, which is expected to be complete by July 2021. Sunmaya and all the residents of the Thulokauwa community were overwhelmed with joy when they first learned about the project. Now, everyone in the community is united and doing everything possible, including substantial labor contribution, to make this project a success and bid goodbye to the enduring water supply problem.