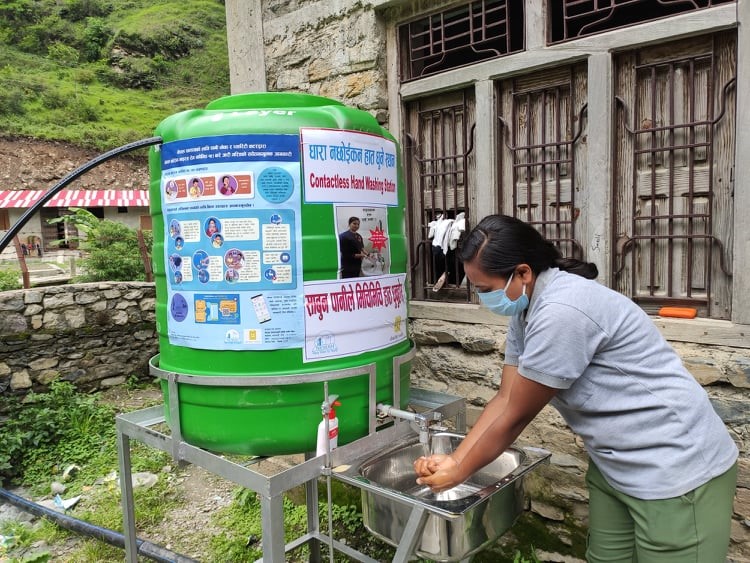 "At the height of COVID pandemic, I decided to return home from Saudi Arabia to live and take care of my family" recalls Tara Bahadur Moktan, 29, from Marin Rural Municipality-2, Chhatiwan, Sindhuli. He was living in the middle-eastern country for the past 10 years as a migrant worker. He returned Nepal in early July 2020 and sent to the quarantine center at Marin Multiple Campus that was managed by Marin Rural Municipality.
Six other people, who were also migrant returnees from various countries, were staying in the quarantine center. There was only one toilet and one handwashing facility, which was shared by all seven people quarantined at the center. Tara feared of coronavirus transmission because the water tap and the soap was shared by all. His fear receded once the quarantine center installed a pedal-operated contactless handwashing station with support from NEWAH.
"NEWAH staff and the center's management team taught us the proper way of handwashing with soap so that COVID and other viruses are washed away from our hands" Tara recalls "contactless handwashing station was really amazing as it did not require physical contact by hand to the faucet and soap, and was all operated by foot. I could wash my hand only just by moving my foot." He also said with laughing "It was handwashing machine operating by foot". Every people in the quarantine followed the rule and practiced taught by NEWAH staff about frequency and technique of handwashing, and about maintaining social distancing and wearing a mask. The leaflets and posters distributed by NEWAH were equally helpful for learning about on COVID-19 virus, transmission routes and precautions.
A PCR test was conducted on 12 July 2020. It was sad moment for him because he had positive for COVID-19. But he had one happy moment too at the same time that other people who live in same quarantine tested negative on PCR Test. Tara adds "I was COVID-19 positive but I didn't transmit the virus to others. I want to give this credit to that contactless handwashing station and education provided by NEWAH while I was quarantined."
After the positive test, he was transferred to the isolation center at District Hospital, Sindhuli. A contactless handwashing station was also installed by NEWAH at that isolation center. After treatment at isolation center and practicing what he learned at quarantine and isolation center, he has recovered and returned to home safely.