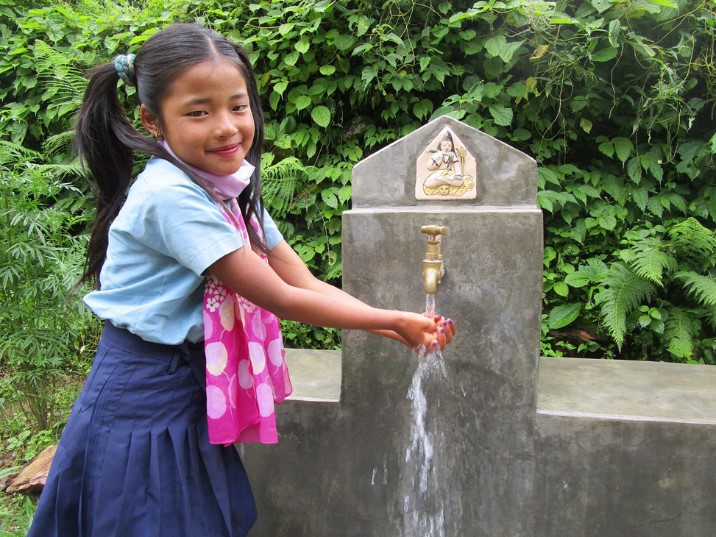 Chandrakala Rasaili, a class 10 student, used to line up to fetch water from 4 in the morning. The routine task of fetching water from a water well located at one hour walk from her home and upon return, straightway preparing for school located at even farther distance was making her life miserable. To reach the school, situated in Notadarli Gulmi, it takes two hours of walk.
Sabitra Raskoti's chronicle is similar. For years, she never took a day off. Her life ran like a clockwork- wake up and fetch water from distant source, prepare meal, prepare children for school, clean kitchen, go to work, and then return home at dusk to fetch some more water and prepare and serve meal before sleep. All women in Patle community located in ward number 10 of Badigad Rural Municipality has a similar daily routine. Sending children, particularly girls, to school was difficult because they generally helped mothers to fetch water from distant source. To raise livestock, one had to build a shed by the river. Arguments and brawls for water among neighbors was a frequent occurrence. Due to heavy extraction, the water in the well remained murky, and households only used simple filtration, such as passing the water through layered cotton cloth, before its use.
The 42 households living in Patle community had faced the water issue for decades. Latrines were almost unusable due to lack of water. "The lack of accessible drinking water affected all aspects of our lives. Farming and livestock raising was equally difficult", says Santa Bahadur Rasakoti, the chairperson of the Patle Jhakristhan Water and Sanitation Users Committee. He further adds "Our desire for accessible drinking water has finally become a reality after twenty long years. Everyone in the community is happy from the project which has brought piped water to our community. Children in particular, couldn't be happier because they are now able to prepare for and reach their school on time. Since the water comes from a protected spring source, there are no issues of impurity or contamination. The water is fit for use direct from the tap."
After the project, all 42 households in the community have a water tap constructed in their yard. The project was completed with financial and technical support from Nepal Water for Health (NEWAH). The Badigad Rural Municipality provided additional financial support and the users contributed through labor support. Of the 42 households, 35 households are provided water access through gravity-fed technology and seven remaining households are connected through lift water supply technology where the water is lifted more than 150 meters uphill from a downhill tank. 301 people in the community have been benefited by the project.
The water access has already created visible impacts to the livelihoods of people in the community. Some female members of the community are already utilizing the hours saved by producing vegetables and small-scale cash cropping using waste water released from the house. Junukumari BK, for instance, has done remarkable progress. This year alone, she has made an additional income of NPR 30,000 from the sale of vegetables that she cultivated at her homestead. This is in addition to the savings from vegetable purchase from the local market because all vegetables she consumes now comes from her own farm and she is only taking the surplus to the market. Junukumari elatedly shares "after the project, children haven't contracted diarrheal diseases and are able to focus on studies, and I am concentrating my time on productive and income generating activities. I feel like I have conquered a big battle."