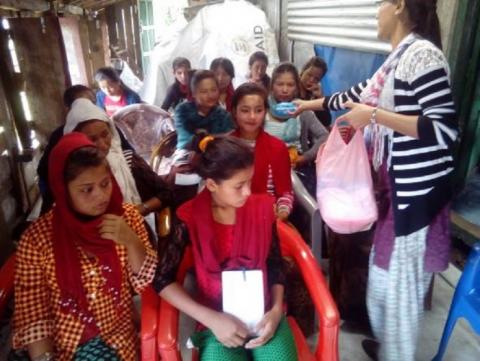 Nepal Water for Health (NEWAH) has been working since 2013 in Simjung VDC of Gorkha district with the partnership with Simjung V-WASH-CC and WSUC . Various trainings were held this year in the project of Haringhaderi drinking water and sanitation projects. 4 new WASH projects are under implementation in Simjung VDC. During the project implementation menstruation hygiene management training was conducted to adolescents.
The training lasted for 2 days with 13 active girls participants. Laxmi Gurung, one of our trainee studying in 9th standard of Himalaya Higher Secondary School says, "Before this training we used to collect monthly savings, clean our houses and surroundings once a week, but we have never before participated in any kind of hygiene awareness programs. So it was really difficult for us when we went through our menstruation period. As we didn't know how do we maintain it. Also there was no good toilet in our school which made it more difficult for us to go to the school at the time of our menstruation period. So it was a compulsion for us to stay at home rather than to go to the school." She adds being happy, "This Haringhaderi Sanitation and Hygiene program held by the technical support of NEWAH and financial support of WaterAid Nepal have really influenced us and made us aware about maintaining our hygiene at the time of our menstruation. The clothes and pads we use must be clean and we must clean those clothes and dry it in the sun were taught. We were also taught that the ready made pads we use and litter it anywhere we want must not be done because it is not a hygienic activity. We girls have learnt a lot from this program".
After the devastating earthquake of 12 Baisakh 2072, our houses and toilets were completely ruined which made it more difficult for us to maintain hygiene during menstruation period. Nepal Water for Health (NEWAH) helped us build our toilets which made it easy for us to maintain hygiene and also it prevented us from various diseases that could have affected us through improper open toilets. NEWAH also provided us with various pads, cotton clothes, line masons and mason pins which helped girls to change their behavior in order to maintain their hygiene. We would like to thank NEWAH for their contribution in awareness though this training says the local residents. We would also like to request to hold this type of programs in the future and aware maximum people in order to maintain their hygiene behavior.