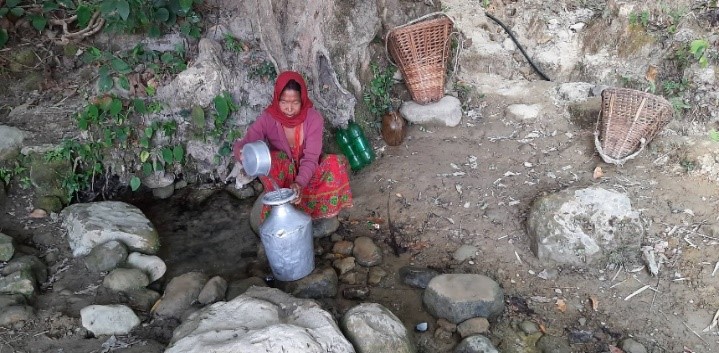 People of Tinpatan were compelled to wait for hours to collect water from the spring in the past. In dry seasons, it used to take a lot of time even to collect water in the spring. They had to worry about the drinking water every time.
Tankamaya Shrestha, 58 years old lives in Tinpatan-1 Khorkhola. She shared her hardship and experiences in the past for collecting water. "I had slipped several times during rainy seasons due to slippery roads while fetching water from the spring. The spring water was just enough for drinking and we had to go river which is an hour below from the village for bathing and washing clothes." shares Tankamaya.
Whenever any relatives come to her home, she felt that it will be good if they don't waste water. She could not even cultivate 2-4 vegetables in their kitchen garden as she used to give waste water from washing hands and utensils to cattle. They had to start collecting water 4-5 days earlier during any wedding feast and different social functions.
With the technical and financial support of Nepal Water for Health, a solar lifting water project was completed in Khorkhola, Tinpatan. Now people have access to safe drinking water within their house premises.
"Tap stand within the house premises has erased the compelling situation to fight with our relatives for water. It feels like a dream. We used to worry about water than any other things. Now I am very happy as there is 24 hours availability of water" says Tankamaya Shrestha.
People could not believe that water can be lifted till their village from the water source which is way below from them. This is the first time they saw this technology in the rural area.
There have been many changes in the village after training and workshops related to water, sanitation and hygiene. Previously, due to lack of water and knowledge there was no habit of washing hands with soap and water. Now people give importance to personal and household hygiene and environmental sanitation and have been using drying rack, utensils washing place and bucket with tap. They have started to cultivate by utilizing the waste water.