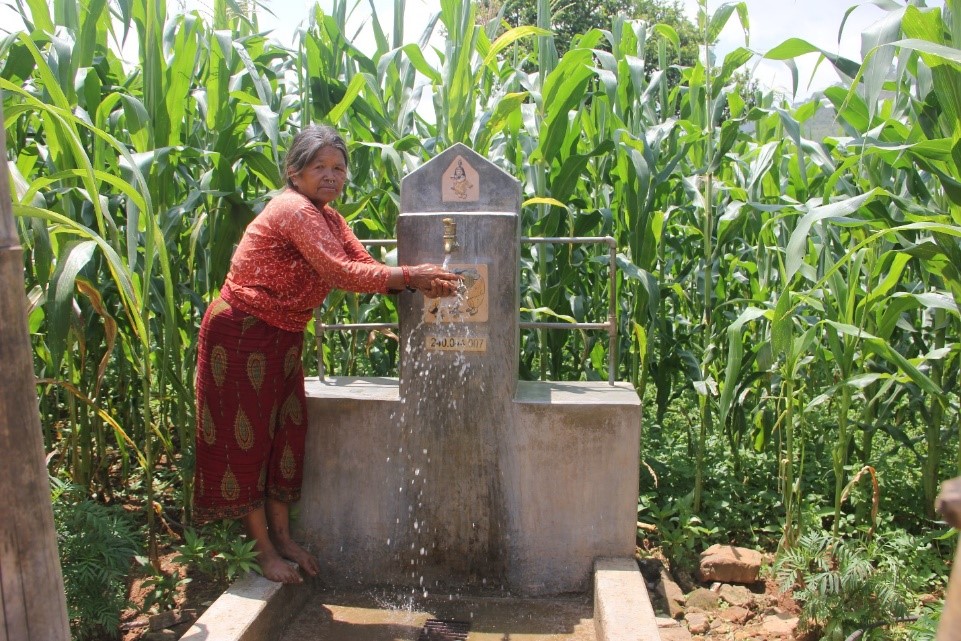 Shiva Kumari Thapa Magar, 55 years old lives in Khokling, Golanjor rural municipality of Sindhuli district. She lives with her husband and two blind sons. Her two daughters are married off and one son works in Kathmandu. It is very difficult for Shiva Kumari's family as she has to look after her two blind sons and also manage all the household chores alone.
Shiva Kumari remembers how difficult her daily life was when there was no water sources within the village. She used to go to Tadhi, a water supply project in next village. It takes more than half an hour downhill to reach there and two hours uphill to return with filled water vessels. She did not get time to cook food in time as she had to go to fetch water early in the morning. She used to carry two pots as one pot was not adequate, and sometimes she had to go again to collect water. Sometimes we used to go to Baansbang, Bijor khola or Rani khola , and these places were also distant.
There was also a community tap, constructed by Nepal Government central program which source is Ranikhola and water was distributed every morning as an interim system. The water from this tap was not adequate for the villagers so they were compelled to go to Tadhi water project of next village. They needed water for rearing the cattle as well. There was no water sources / streams in the forest nearby. The villagers were suffering a lot due to scarcity of water in their village. Villagers have to transport the water from local vehicle like tractor and buy water to construct the houses. Life was extremely difficult due to water scarcity.
After the construction of Khokling Phadke Water Supply Project by Nepal Water for Health (NEWAH) in 2018, there have been change in the face of the village and community . Shiva Kumari and her husband took turns to contribute in the digging pipelines for the project for around 2-3 months. Now a communal tap is just 10 meters away from her home. Life has become much more convenient after she did not have to travel for more than 3 hours. Now she can reach the tap in 30 seconds and collect adequate water for her household chores and cattle. Though her life has become convenient due to easy access to water, her life is full of hardships as there are no supporting hands in the house. She has raised few cows and a small kitchen garden. Monkeys are troublesome as they damage her fields and crops. However, she is very grateful for water nearby her house as it has saved several hours of hardships.
A lot of improvements have also seen in village after the construction of Khokling Phadke Water Supply Project. Those villagers having plenty of land have started commercial horticulture and selling vegetables. Previously, people did not use to do vegetable farming due to lack of water. They have to depend on rain water. Now, the scenario has changed. Most of the villagers now grow their own vegetables and do not have to buy vegetables. Before they have to buy even onions and potatoes, now they grow their own vegetables.
Life has become much easier to the villagers. Villagers had to go to Tadhi for washing clothes and bathing. Now they have water in their own houses.
Shiva Kumari mentioned her neighbors do fish farming as well. The village got electricity just 6 months ago. Development is taking place slowly in her village. Shiva Kumari hopes to find employment opportunities for her blind sons in her village. Shiva Kumari and entire community acknowledges NEWAH and charity: water for meaningful WASH support and they have committed that they will keep the project functional for the lasting period.