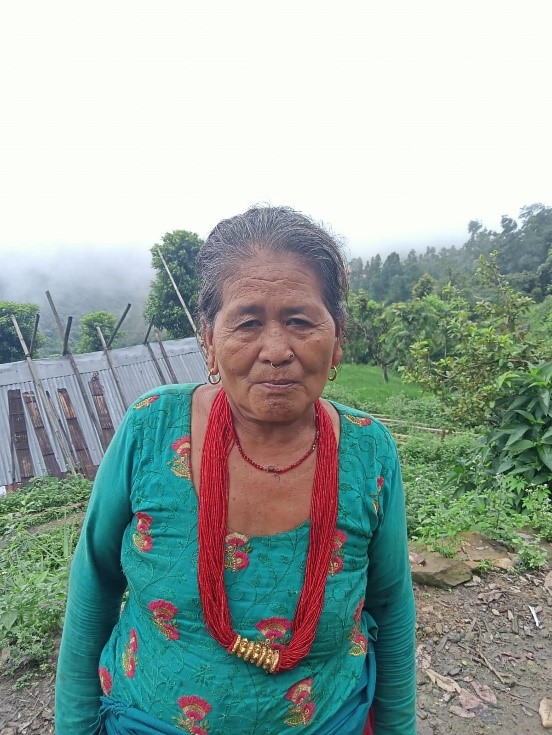 Resident of Dharapani Cluster, ward no. 1 of Marin Rural Municipality, Sindhuli Chelimaya Sijali has 5 sons, 5 daughters, 8 grandsons, 9 grand daughters and 1 grand grand son. She and her husband lives with their third son Harka Bahadur, and he works in Kathmandu to earn his livelihood. So, its two of them residing at home. Chelimaya has crossed 64 years of her life without proper sleep at nights and proper food at day as she was always worried about collecting adequate water. She used to wake up at 4 am and immediately went to tap carrying doko, namlo and water pot. Even at those early hours, she had to wait in line to fill water. It added to her stress of household chores.
Not just Dharapani village, all the villagers of Khalanga village also went to Dharapani water source situated below the village to fetch water, wash clothes and take cattle to the source to feed water. So, people were compelled to wait in line to collect water. There had been many quarrels due to water. It takes 35-40 minutes to fetch a pot of water from Dharapani source if she didn't have to wait. Otherwise, it takes more than an hour. She has many memories of hardships for water. During nights when she went to fetch water, she had many falls, slipped in roads due to algae in rainy season and terrified of ghosts.
When Nepal Water for Health started water project in 2076 to lift water from Shishnoghari source and distribute through reservoir, she could not believe she can ever fetch water from the tap next to her house. In 2077/78, when project was approved and the implementation started, hopes raised in her heart that she can finally drink water from the tap. As the community was suffering a lot due to water, they worked together and started digging pipeline from second week of Baisakh 2078, construction of tap, tanks and intake structures have been completed but due to second wave of pandemic, solar lift installation was delayed.
Despite pandemic, in Shrawan 2078, solar panel installation was completed and distribution of water from Shishnoghari source began through tap stands next to houses. There was no limit to the happiness of people. Chelimaya says. "I never thought water can climb up, it was like a dream. But water reached us."
On the first day of water distribution, all villagers cleaned the tap and worshipped and prayed that they always get to drink clean water and expressed their happiness. She hopes to utilize waste water to cultivate vegetables and fruits even in dry seasons as there is tap water.
Lastly, Chelimaya says, "Now I feel happy that I can drink water, even if when there is no one at my old age, I feel I can drag myself till water tap." For 64 years it seemed impossible to access water and using technology water has been lifted to village and Chelimaya's happiness is unlimited and feels her days of hardships are gone. Happiness has returned in her life, smile in face and peace in heart. She conveys her best wishes to all helping hands.