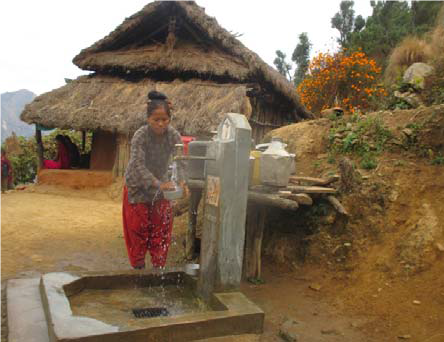 Dilmaya Praja, 46 years old, is a resident of Jyarwang, Kanda, Chitwan. She is a mother of four daughters and four sons. To bring drinking water at home, she had to walk two hours to Udikhadling khola every day in every morning before sunrise. This had been her daily routine for the past 30 years. However, it is not only Dilmaya, but every other women from her community had also spent their life in tiresome drudgery of fetching drinking water from the distant source. The entire village was facing the hardship brought by the lack of a drinking water source nearby.
The community people had relentlessly tried to solve the problem by requesting the local elected body, as well as the concerned authority in the district, but their request went unheard for long. Kanda is a remote village located in ward number 13 of Rapti Municipality of Chitwan district. To arrive at Kanda, it takes 3 hours' drive from the district headquarters of Chitwan and 6 hours up-hill hike from the road head at Hattidhap. There are 51 households belonging to the indigenous 'Chepang' group and the total population stands at 464. The Chepangs are considered to be one of the highly marginalized communities having traditional subsistence-based small economies. Maize, millet, wheat and mustard are the major crops produced in their lands, which are mostly marginal and unproductive. Consequently, the crops produced are not enough to feed the family all year round. During cereal scares months, the Chepangs depend on edible wild roots and bulbs. To generate income for subsistence, the male members of the household often go to neighboring villages in search of labor work. They continue to live with poverty in backward communities where there is a lack of access to basic facilities of water, education and health. If new people come to their village, they shy away and hesitate to talk and share their problems.
In 2018, NEWAH approached the community with a water supply project under charity: water's grant 219, and supported the construction of 29 tap stands, of which 16 were community-based, 11 on-plot, 2 school-based. Dilmaya's family was among the benefited. Nowadays, all people of the community, including Dilmaya, are extremely happy. Their daily routine of bringing drinking water from Udikhadling khola has changed. There is no need to walk hours to bring drinking water in the early morning. They bring water from the newly erected tap-stands near their home. They have also started producing vegetables in their homestead by using wastewater from the Kitchen. Dilmaya, with tearful eyes, ponders all the trouble she, her family and her community faced for years due to lack of access to close drinking water sources, and shares that she is hopeful about her children and the future generation now having a better future.